SAY GOODBYE TO BRAKE RUB & NOISY BRAKES
Perfect Brake Alignment in 10 seconds!
We make it easy to fix loose or noisy brakes with BRAKE MATE. The tool ensures a perfect alignment to stop brakes rubbing to help your ride to go faster and smoother.
Brake Mate Gets The Job Done Right The First Time!
Cycling is your favorite passion and hobby, but going to the mechanic every other day to align your brakes can be tiresome.
The Brake Mate's innovative design has an accurate right-angle hem on both sides, ensuring perfect alignment every time.
Enjoy a professionally done bike service at home with Brake Mate. It improves your braking efficiency and increases the lifespan of your bike.
The Brake Mate tool is so effective it will transform your cycling experience, your brakes will feel as good as new!
Brake Mate ensures a perfect alignment to stop all the brake rubs and make you go faster and smoother on your ride.
Forget the hassle. This tiny tool easily fits into your saddle bag and will become your best cycling buddy - Get Your Brake Mate Today!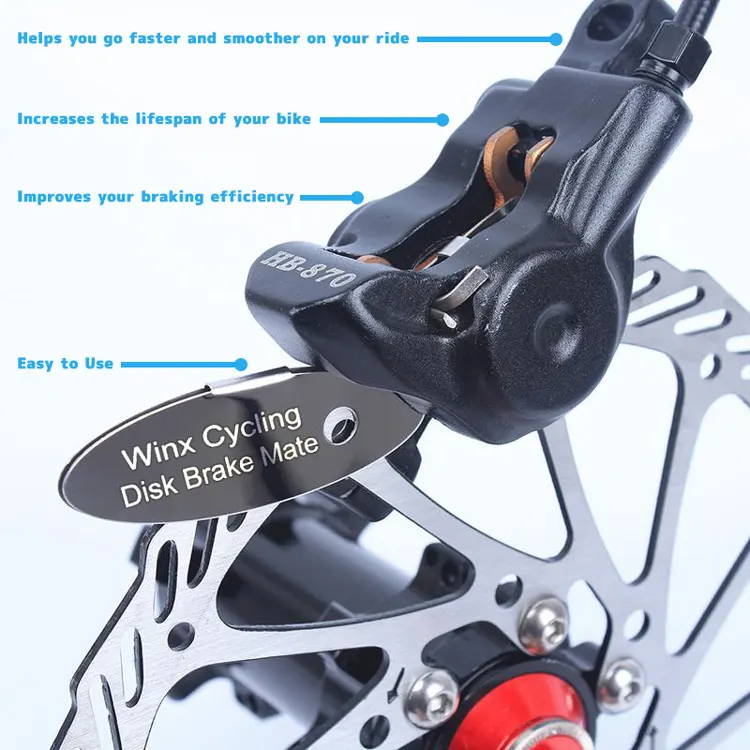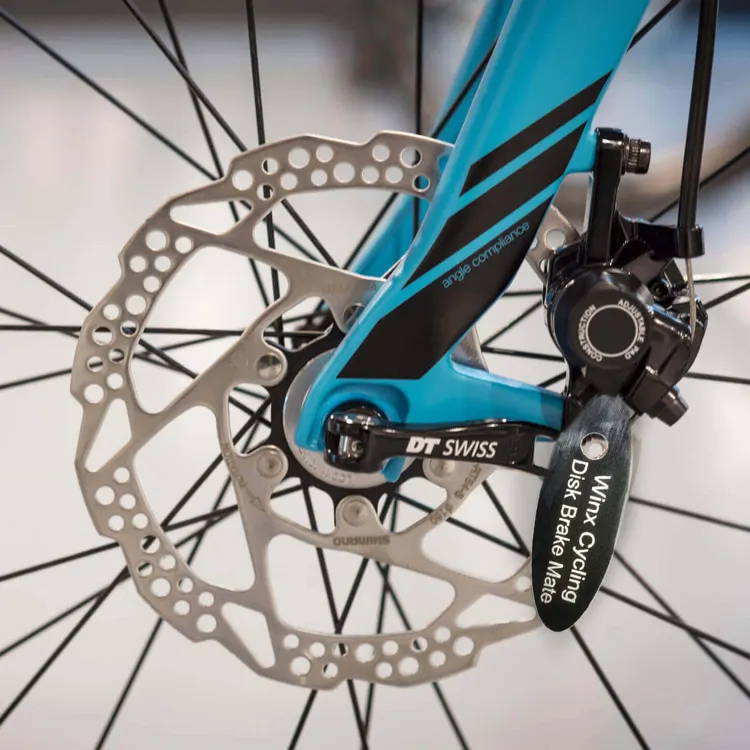 Does the Squeaking Drive You Crazy?
Are you frustrated of the irritating sound of applying brakes?
Do you want to get rid of your bike's scuffing, squeaking noise?
These noises happen when your brakes are unaligned or keep on rubbing.
I bet you have tried almost everything to get rid of these annoying sounds. Doing it yourself is difficult and takes forever, going to the bike shop is a hassle.
It can be a frustrating and embracing experience.
Now enjoy the silent ride with Brake Mate.
Because it aligns your brakes perfectly every time.
And in less than a minute!
Zero rubbing of the brakes for the perfect soundless ride.
The advanced technology of Brake Mate makes it simple and easy to use, so you can get the work done in seconds.
All you have to do is:
👉 Loosen the caliper
👉 Slide Disc Brake Mate over the disc
👉Now rotate it in between the pads
👉 And squeeze the lever multiple times
👉lastly, tighten the bolts again.
Voila!!! You're done.
Nothing beats the convenience and effectiveness of this simple tool.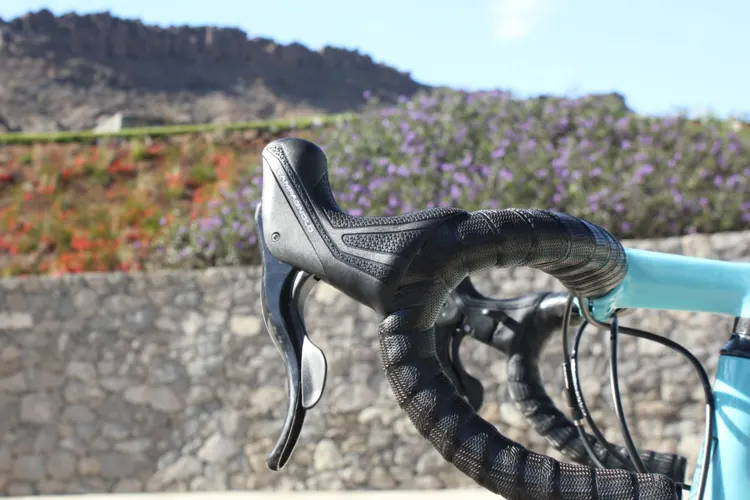 So Who Is The BRAKE MATE For?
Our customers absolutely love how simple it is to use. The BRAKE MATE is perfect for cyclists of all abilities. Whether you are a beginner or pro, this tiny tool makes aligning brakes effortless.
The Brake Mate works with all brands of bikes that have disc brakes. If you want an easy to use tool that fits in your saddle bag and gets rid of noisy brakes the the Brake mate is for you!
Disc Brake Mate offers you the best value for your money.
The tool comes with a lifetime warranty guarantee…
Buy once, and you'll never need to repurchase another one!
It's durable as it's made from high-quality stainless steel.
✔️ Zero rusting
✔️ Zero bending
✔️ Zero replacing required
What are you waiting for? Our 50% OFF Sale is on NOW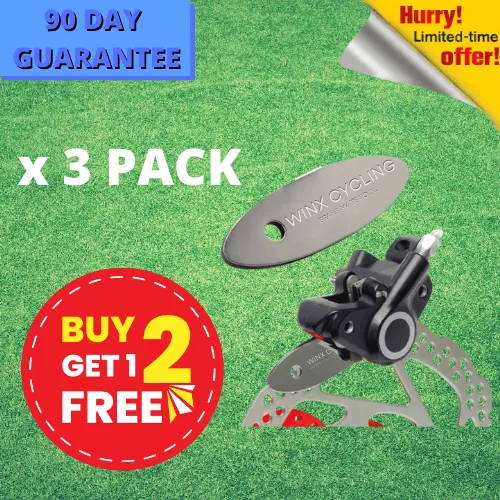 DON'T JUST TAKE OUR WORD FOR IT..

SEE WHAT OUR CUSTOMERS ARE SAYING
"A must have tool for the saddle bag"
"I have installed and adjusted dozens of disc brakes over the years but it always takes a lot of time to get it right. The first time I tried this tool I wished I bought it sooner.. Can't go wrong for the price!"
David R - Qld, Aus. Reviewed on March 4th, 2022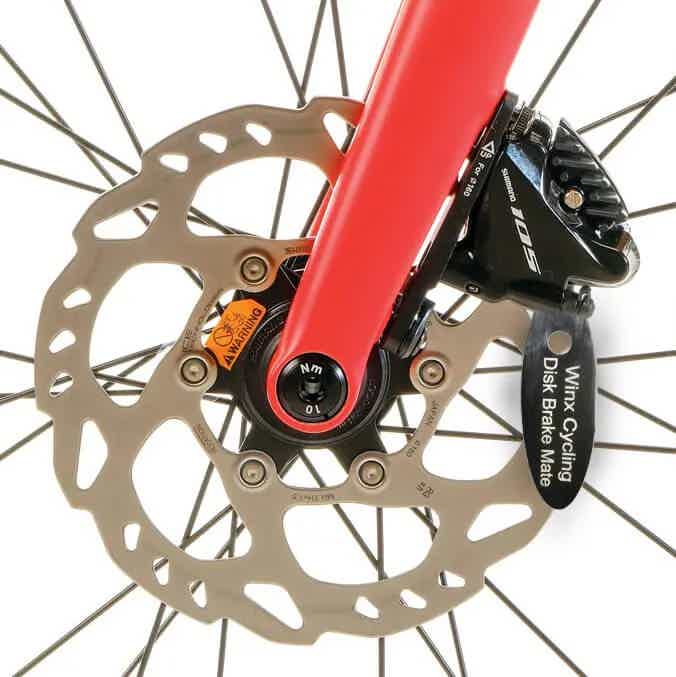 "Nothing worse than noticing noisy brakes when you are riding. The Brake Mate takes the fine tuning of the calipers to a new level. This simple tool gets it right the first time. No more trips to the bike mechanic.
Mario- Berlin, Germany. Reviewed on January 15th, 2022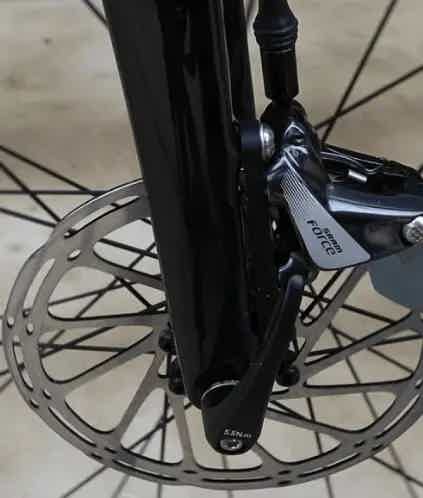 "I must admit at first I thought this was a either a gimmick or a scam and wouldn't work. I recently got a new bike with hydraulic brakes and have been having trouble with a slight rubbing. Whilst doing my research I came across this facebook ad and decided to check it out.
I liked it because it is compact and affordable. I was able to fix rubbing issue using the tool (really works!) Highly recommend to fellow riders.
Peter T - Canada. Reviewed on February 17, 2022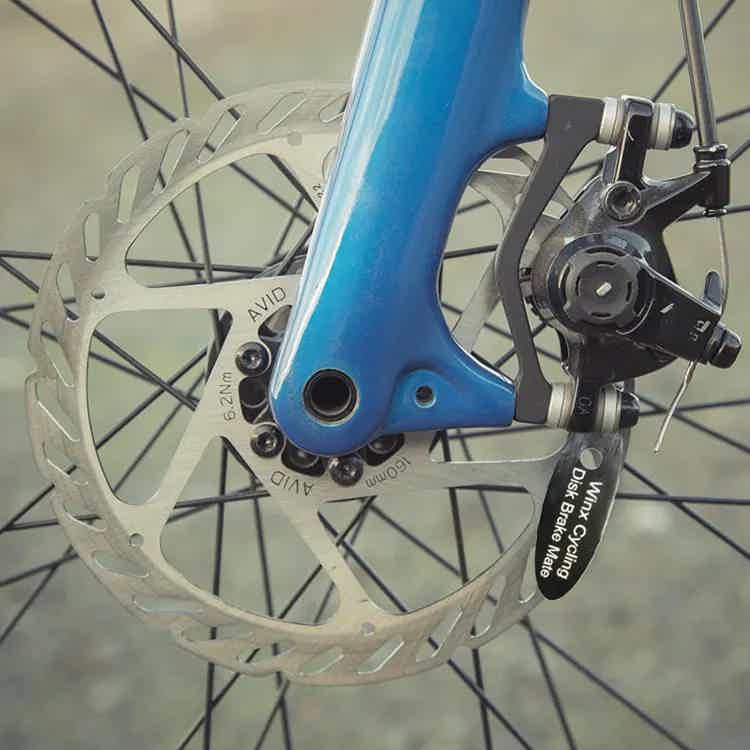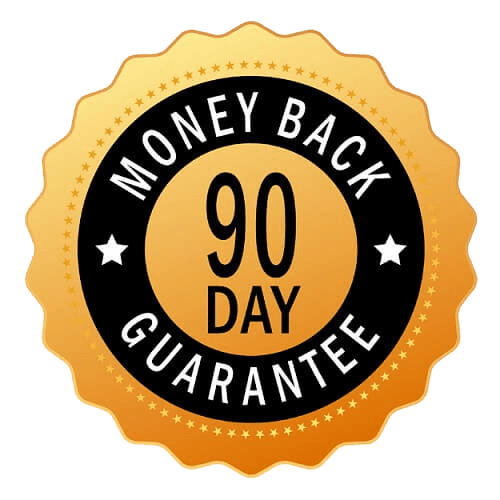 90 DAY MONEY BACK GUARANTEE
Each Purchase is backed by our, "Love It or Money Back Guarantee" guarantee.
I know what you're probably thinking – "this seems great, but will it actually work as promised? Or is this another gimmick?".
We get it. You've probably been burnt by other tools promising the world and failing to deliver.
And here's why we're different. Once you receive the product, you have 90 days to use it. If for some reason you don't love it
Simply email our support team, and we will refund your purchase amount in full.
That's how confident we are that our products works.
GOT QUESTIONS? WE'VE GOT ANSWERS!
Can't find question? email us support@winxwheels.com
WILL THIS WORK FOR MY BIKE?
Yes. The Brake Mate works on all bikes that have disc brakes.
Absolutely. It is super light at only 20grams. The compact size will ensure you can carry it in your saddle bag. It even attaches to your keychain.
55mm x 19mm/2.17" x 0.75" (Approx.)
The advanced technology of Disc-Brake Mate makes it simple and easy to use, so you can get the work done in seconds.
All you have to do is:
👉 loosen the caliper
👉 Slide Disc Brake Mate over the disc
👉Now rotate it in between the pads
👉 And squeeze the lever multiple times
👉lastly, tighten the bolts again.
Voila!!! You're done.
Nothing beats the convenience and effectiveness of this simple tool.
High Quality 304mirror stainless steel. The Brake Mate will not rust or leave marks on your wheels.
Customers are able to cancel their order 24 hours after placing it before the order is shipped out for a full refund, no questions asked. Please email support@winxwheels.com to cancel within the time period.
WHAT IS YOUR RETURN POLICY?
The 90-Day Money-Back Guarantee is our way of ensuring your complete satisfaction with our products. If you are not satisfied with the product, then let us know within 90 calendar days of receiving your order, and we will give you a full refund.
If you have an issue with your order or product please email support@winxwheels.com
WHAT PAYMENT METHODS ARE AVAILABLE?
We accept Paypal, Visa, Mastercard, and all other major credit cards. Our website is 100% SSL encrypted and we only use trusted payment providers.
HOW LONG DOES IT TAKE TO SHIP?

Today's Limited Offer FREE Shipping on 2 or more items. Shipping time will be 7-10 days. All orders are shipped with a tracking number. We also offer insured and priority shipping options available to view at checkout. For standard shipping please allow 1-2 business days for processing your order . You can expect your delivery within 10 business days.
HOW CAN I TRACK THE STATUS OF MY ORDER?
After we have shipped your order, an email update will be sent titled "A shipment from order #WW******* is on the way". You will find your tracking number and information inside this email.
With the tracking number you can track your order on the tracking page we will give to you.
IS THERE A WARRANTY PERIOD FOR THIS PRODUCT?
Yes! We offer 12 months warranty on all of our products. Should the item arrive damaged or break during usage we will replace it free of charge.
We are offering 1000 units at a discounted price. The SALE will end on the date stated above on this page, or while stocks last.
Units left in the warehouse at the moment: 23